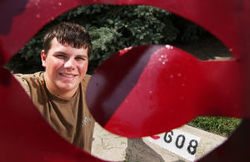 Painting the town
Young entrepreneur brushing up curbs in Cairo
CAIRO, Neb. (AP) - Posted: Sunday, August 3, 2014 11:45 pm
|
Updated: 9:01 am, Tue Aug 5, 2014
By Robert Pore
CAIRO — "Shoot for the moon. If you miss, shoot for the stars."
That's an adage that 17-year-old entrepreneur Brayden Milhon looks to for inspiration.
Brayden, who will be a senior this year at Centura High School, started a unique venture that has brought him a little summer spending money, while at the same time allowing him to be the sole owner and employee of his own business — Done Right Curb Painting.
Cairo's newest entrepreneur noticed that some of the homes in Cairo didn't have visible house numbers and found a way to solve the problem, according to the city of Cairo's website (www.cairocommunity.com) that advertises Brayden's services
He started his curb painting business to make house numbers attractive and visible to emergency services and delivery services. As an added bonus, he adds a logo of his customer's choice to compliment the curbside house number. The cost to paint numbers only is $20. For numbers and a logo, it's $25.
So far this summer, Brayden has netted more than $500 from the business — and he has a waiting list of customers demanding his services.
The Centura student, who lives with his father in Cairo, said his grandfather, Mike Milhon, gave him the idea of starting his own business.
"My grandfather is pretty smart about things like running a business," he said.
Mike Milhon, who lives in Grand Island and co-owns and operates Nebraska Peterbilt, said he told his grandson about the potential of the business after observing people painting house numbers on the curbside in Grand Island. He said starting a business as a teenager provides the opportunity for a young person to develop great life skills.
"When you get older, you come to realize, what if you could have a job that was just your effort and it was only you and you did good all on your effort," Milhon said. "It would be rewarding."
He said he wanted to do something for Brayden to help him develop a sense of self-worth by earning money from a job he created.
"I believe it teaches him that when he expends the effort to do something, then he reaps the rewards — in this particular case, the income," Milhon said. "It teaches him that basic thing that everybody who becomes an adult needs to have because if you don't develop that skill, when you become an adult, it doesn't click within you. That is the big lesson."
Milhon said there is a difference between a kid coming over to his grandparent's house and doing an odd job or two for some spending money and a young person developing a business plan and coming up with a sales pitch to accomplish that plan. "It is a very unique thing and worked out this summer for him and I am proud of him," he said.
Earlier this summer, Brayden approached Cairo city officials about the idea of curb painting.
"They thought it was a great idea as it benefits emergency needs, such as emergency responders," Brayden said. "If you look around town, a lot of the houses don't have numbers on them. If you are driving on the street and see the house numbers painted on the curb, it looks nice."
The curb paintings are situated parallel with the occupant's front door.
What makes the curb paintings stand out is a small piece of art available accompany it. The art is from the customer's choosing, such as a logo for a favorite sports team like the Nebraska Cornhuskers, or a patriot symbol, such as an eagle or an American flag.
Brayden said his business has kept him busier than he expected this summer.
"My buddies are all asking me about it," he said. "I will go out for an hour and earn $100."
Brayden, who is active in sports, said his business hasn't cut into the time he needed for summer sports. "I am my own boss," he said.
For now, his business has just concentrated on Cairo, but he has thought about expanding. He plans to continue the business once school starts, but mainly on the weekends.
Brayden said he likes art, especially drawing landscapes. For the curb paintings, he uses stencils.
For Brayden, playing football is a "big thing." He's a starting end on the Centura High School varsity football team. This will be his first year attending Centura.
Brayden plans to attend college in the fall of 2015.
At this point, his succession plan for "Done Right Curb Paining" is to pass it along to his younger brother.
"He is my brother," he said. "I am not going to sell it to him."
Brayden said his business has whetted his appetite about pursuing a career as an entrepreneur. He is also interested in a career in engineering.
"I would like something along the lines of inventing industrial stuff," he said. "I have always liked doing things with my hands. I like to come up with things and see how far you can get them."
While the city of Cairo advertised Brayden's business and he has displayed a few flyers around town, word of mouth has helped to fuel the increasing number of job orders. Also, it helps that his work is visible throughout Cairo.
His advice to future young entrepreneurs: "If you have a will, there is a way. If there is something you want to do, then do it."
It's always good to have a business plan, Brayden said, but running your own business involves a lot of trial and error.
"It is all about providing service that people seem to want," he said. "Anyway, it makes the town look nice."
If you would like to schedule a painting appointment for your curb, you can reach Brayden Milhon at (308) 379-0737 or
email
him
Source:
http://www.theindependent.com/life/youth/painting-the-town/article-635114f2-1b66-11e4-a925-0019bb2963f4.html
---